The 14th EDERED, took place from the 10th till the 24th of July 2011 in Youth Camp Hoge Rielen in Kasterlee, Belgium (45 km away from of Antwerp). Organisator was OPENDOEK, Belgium amateur theatre association.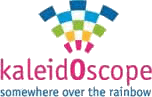 The theme of the encounter was  "Kaleidoscope" (diversity).
Groups from 14 country (8 participants from 12 till 14 years old) were on a
'somewhere over the rainbow' adventure.